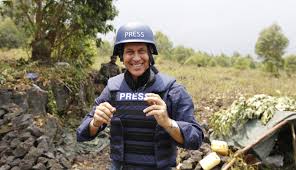 Dear Peter!
Congratulations. The good news just reached me. I am so happy for you and hope you will be together with your family soon. You probably saw the sunset tonight and tomorrow you will see the sun rise.
400 days ago when the news of your arrest reached me something within me broke. Then I saw the pictures of you all locked up as animals in cages. Seven years. "Terrorism". Ten years. "Evidence". Words that lost their meaning.
I felt sick to the stomach to see it happening again.
I spent fourteen months, 438 days, inside the Kality prison in Addis Ababa. Together with photographer Johan Persson, I was sentenced to 11 years for covering the conflict in the closed Ogaden region by entering Ethiopia illegally. Our reportage about oil was transformed into a story about ink.
We where both were pardoned after 14 months of confinement.
During these 400 days, whenever I have read your letters from prison I felt that you where handling the situation in the best way possible. Doing the best of the tragedy. Turning it into something else. Using humour, the last line of defence, to cope with captivity.
I saw the signs in all your letters that they would newer break you. Because you seemed to be in peace with yourself. You knew that even though you where chained, robbed of your physical freedom, the freedom to talk or to be silent, the freedom to drink or eat, and even to shit.
You knew, as do all prisoners of conscience, that you had it in you to keep the most valuable, the freedom that nobody can take from you: the freedom to determine who you are.
A journalist.
The reason I write this letter now is to share my experience on freedom.
Take it for what it is. I think we are all unique and every situation is different but maybe there is something in my experiences from freedom that you might find useful.
Yesterday the word "freedom" might have sounded extraterrestrial, the human body is just all to good at adapting to bizarre situations, but believe me: now you are free.
When me and Johan where released we where advised to go to a resort in a warm country and meet shrinks. Then return to Sweden.
But we felt that that was wrong. I am and was a journalist so I wanted to share my story. Do my job. Keep my promise to the other inmates and tell the world what I had seen. The result was a compromise: we took the first flight out of Ethiopia and ended up in Istanbul where we stayed two nights before flying to Stockholm.
We booked tickets all the way to Stockholm to shake of colleagues "asking" Turkish Airlines officials for our flight plan (once we where out it was fierce competition again to get the first interview), but we got of in transit and made sure the hotel reservation was made as "the national Swedish female volleyball team".
There in Istanbul we had a freelance colleague who waited with a new computer, iphone, and clothes, so that we could rest for two days before flying home to Stockholm and hold a press conference.
We got a film camera immediately at our release but we newer used it. It had been great pictures but the mind was on surviving not documenting. We made sure though that the first photo of us had Johans byline.
After the press conference we took interview after interview until Johan, broke down crying on the floor in the toilet. Then he got up and we took more interviews until almost midnight. We wanted to do this. Everybody tried to tell us to stop and go home. In hindsight I think it was right to give colleagues our story, colleagues who had been there for us during 438 days, reporting, travelling to Addis Abbeba, keeping the story alive.
For us it was like a live debriefing.
But on the second day we should have pulled down the curtain and spend time with our family, instead we continued giving interviews for weeks until I finally went away for a vacation with my wife. Someone should have said stop earlier. I am sure your heroic family, editors and close colleagues will have your back covered.
It might be good to have one of those press spokespersons /gatekeepers that you normally live to hate.
Small practical things will also be a real hassle. Make sure someone helps you with sim-cards, creditcards, new ID:s (if you don't get that back). For me to walk in stairs, using keys, everything was a big thing. Don't underestimate these small things, those are the ones that will you go nuts trying to figure out. Passwords for twitter etc etc.
Ask for help with practicalities. Let people take care of this for you. Don't try to be to strong.
Mentally. The first week I was high on adrenaline. Nothing was of any problem. But after a month I went for vacation and that's when the real challenge began.
I spend those weeks on the beach reading about Guantanamo, and other prison novels, stressed with that I had to and wanted to write a book.
I'd say overall the first year in freedom was worse than the 14 months in jail.
I hade been "good" at being in a prison. I made it. The journalist Martin was feeling great.
But all those qualities where not really useful in the ordinary world. Being on your watch, living in a world where nothing is happening but everything can happen.
All that stress was not to my advantage, to say the least, at home at the breakfast table. Plates was thrown to the ground. Things said that I regret.
I was more jailed in freedom, than what I had been in prison.
I actually missed prison some days. Life was simple there. The days you had had your coffee, done your workout, managed to get hold of a book, got a glimpse of the blue thing people on the outside called sky.
I was newer that happy in freedom.
The challenge was to go from being the journalist-Martin to being Martin-Martin. The person. This took time.
I also hade the survivors guilt to deal with. Why me? When so many are still left for the same "crime". For you, with Baher and Mohamed remaining in jail the only comfort is that you now really can fight for their freedom.
What really helped me, more than any meetings with psychiatrists (those helped in giving strategies for reducing stress) was to write a book and exercise. There is such a huge overload of stress in the body that it needs to be dealt with. I was newer any good at yoga, and tired of doing 600 push-ups a day, so instead I started running. Haven't stopped yet. To run in one direction without having to hit a wall was such an amazing feeling.
Try to keep the good routines from prison, reading at night instead of looking through your twitter feed, exercising in the morning, enjoying that coffee.
Mentally, during the book process, I went up every morning and went back to the desert and to the prison. It was awful. But the day the book was released I was happier than when I was free from prison.
I had written my self free. Word by word. Day by day.
Writing was almost physical, like puking.
At least that worked for me. After the book was out I could say that "now is now and then is then". I also felt that I had kept my promise to the colleagues, telling the world what I had seen. I had done my job, done journalism out of the experience.
Today two years after the release I am not ever as happy as I could be in prison, but I am ok.
I have cried two times in two years.
I cant still handle stress the way I used to. That's the downside, the good part is that I am a better journalist. I have gone from being just an observer to also for a while been a participant. Even compared to others as tourist in a prison reality. That perspective, experience, of suffering, rightlessness, I would not want to be without.
From my experience the ones suffering, taking the real beating, are parents, relatives, brothers and sister on the outside.
They have been in a mental prison and I even though they have been fighting like lions for your release it has been a painful fight. There has always been one more thing they could do. One more phone call. One more letter.
Spend time with them. Hug them.
But the bright side of their ordeal is that is really shows the strength in the family and the extended family. My family and my wifes family knows each other now in a way that had not been possible without this event. It brings out the best of friends.
It gives you faith in humanity.
And even though you will now read the collected newspapers you will newer really grasp the campaign that has been there for you. I´d say it has been so powerful that it has kept people out of jail.
Its just so hopeful to see this first pay off. One out. Two to go.
There is a lot more to say. But I will stop here.
One last advice would be to do things you like to do after being released. That's the most important thing. If you feel like going to a yoga place in Kathmandu and live on salad do that, if you feel like surfing do that, or go to Kobane and report if that's what you feel.
We have been missing your face on the TV-screen.
There will be so many people telling you what is the right thing to do. Only you know.
I am looking forward listening to your interviews. But take your time. Don´t rush anything. You are free now. You have all the time in the world.
And I know you will take height and fight for the ones left. Me and Johan started The Kality Foundation. It was also a way to keep fighting for the ones left.
We all know that's what on stake here for journalism ahead is so much more than just your or my freedom.
What we see is a trend, an open hunting season on journalists. And in nations where journalists are jailed, no one is free.
Today back in the field I am more afraid of rubber paragraphs and terrorist-legislation than bombs and bullets. If this development continues it's the end of journalism as we know it.
We certainly live in interesting times. And we need you and the collegaues back to sort it all out.
You have to start beating the drum as soon as you feel ok.
I hope that in the very near future we will meet in person, not only on the page. If you are passing by Stockholm I will buy you a beer. If you have a free spot for an interview I will fly to Australia.
Until then stay strong. For your colleagues, tomorrow morning is another day at their prison office. They will have to take a teaspoon of cement and get to work.
The same goes for you. The fight for justice goes on!
I saw on flighradar24 that your flight was on its way to Cyprus.
Ayanapa?
Odd choice, but have fun
/
Martin Schibbye, Swedish freelance journalist