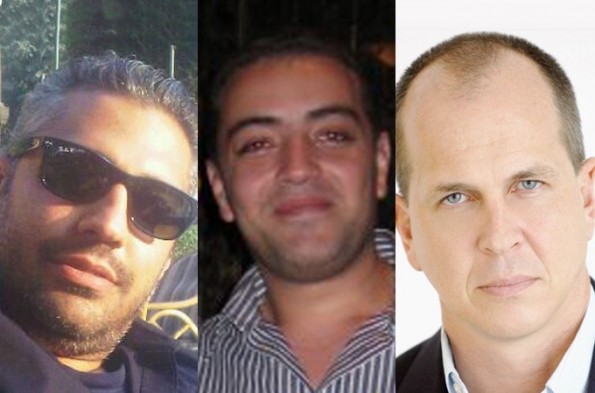 Some thoughts on the verdict against Peter Greste and his colleagues in Egypt.
Suddenly all the weeks of waiting was over.
This morning the award-winning Australian Peter Greste, his Egyptian-Canadian editor Mohamed Fahmy and the producer, Baher Mohamed, where pulled out of their cold and dirty cells in Egypt's Tora Prison. They had probably washed themselves as well as they could, trimmed their beards and squeezed their bodies into ill-fitting clothes. At the back of their minds, memorised words and sentences.
Right alongside them but out of reach, the families of the imprisoned men, as well as hoards of foreign diplomats, embassy staff and a sizeable pack of journalists, from all over the world was on tenterhooks.
Breathe. Breathe. Was all I could think of while the tweets #FreeAJstaff rushed over the screen at a pace of 1 000 tweets an hour.
I steeled myself but everything around me was drained of colour.
The courtroom was absolutely silent.
When I closed my eyes I could see everything playing itself out before me as if it was yesterday: the raised seat of the judges, the spectators' benches, the wilting national flags and the starched black capes of the barristers. I remembered the dirty tiled floor and the red velvet curtains, reminding one more of a visit to the theatre than a law court.
The camera flashguns where smattering.
Egyptian modern history was holding its breath.
The diplomatic pressure that had been built up during the trial, together with the complete lack of any shred of evidence, had made many observers think that we'll, they just have to release them.
Don't they?
Then the seven years sentence was declared.
How did we end up here – again?
Only three years ago, al-Jazeera cabled out historical images of celebration from Tahrir Square – the epicentre of the Arab Spring. From their frontline positions, the television channel was able to cover the waves of demonstrations, the ebb and flow of revolution. Thanks to Al-Jazeera, a whole generation of youth in North Africa and the Middle East could see that political change was a real possibility. The channel continued reporting on the fall of Hosni Mubarak, the election victory of the Muslim Brotherhood and the short presidency of Mohamed Morsi until the Army's assumption of power in July 2013.
That was when the journey ended.
Egypt once again became a military dictatorship. In the autumn, there were several massacres of supporters of the Muslim Brotherhood. Thousands more have been arrested. More or less the entire leadership of the Muslim Brotherhood – which has been designated a terrorist organisation – is imprisoned, and several of its leaders are facing death penalties.
Suddenly the news stories went into reverse.
The rolling back of recent victories has been fast-moving, including the most delicate achievement of all: press freedom.
Today, Egypt is one of the world's biggest prisons for journalists and the third deadliest country to work in after Syria and Iraq. The mass detention of journalists in Egypt is unique in its sheer scale, but the alarms have been sounding for a while now.
What was referred to ten years ago as a "wolf at the door" argument, namely that terror laws could be used against journalists, has now become a brutal reality in an increasing number of countries. In the annual statistics compiled by press freedom organisations, each set of figures is always compared with the year before.
But if one zooms out, an interesting pattern emerges: the really significant increase in numbers of imprisoned journalists takes place after 11 September, 2001.
The rubber-band legislation created to get at terrorists is being abused in Egypt, Turkey, Iran, Ethiopia and China to silence, persecute and incarcerate inconvenient voices.
The USA is also plummeting like a stone in this year's press freedom rankings, as a result of its increasingly aggressive pursuit of whistle-blowers. The anti-terror laws which were used in the conviction of myself and Johan Persson, were copied word for word by Ethiopia from the British legal system, and have been enforced since 2009 to imprison journalists.
While the names of the journalists were Mohammed or Abdi, the phenomenon continued to pass under the radar of media coverage. But when the impact is felt by a Johan, a Martin and now also a Peter from Australia, the consequences of the hunt for terrorists are suddenly evident in relation to the people we know and the news channels we watch.
Therefore, on a day like today in the courtroom, let us not forget that the 14 months Johan and I spent in Kality Prison did not have any political or diplomatic repercussions for Ethiopia.
The mock executions, the fabricated evidence, the abuse of terror legislation – all was allowed to pass. Sweden and Ethiopia turned a fresh leaf and moved on. Strengthened in their bilateral relations. Colleagues of ours who are still in Kality Prison, such as Eskinder Nega, serving an 18-year term for protesting against the anti-terror laws, and Reeyot Alemu, sentenced to 5 years in prison for writing articles critical of the regime, are today no more than "an irritant", in the diplomatic circles.
Egypt has very likely sneaked a look at Ethiopia, and has been impressed and inspired.
Imprisoning journalists is a cheap form of censorship without any consequences.
Diplomats and politicians from the West are expressing a cautious "concern" for developments in both Ethiopia and Egypt, but at the same time they are concerned about maintaining their strategic links with these geo-politically important countries.
Its almost ironic that just days before the verdict the US had made available most of the $575m (£328m) in military aid frozen by Congress after the coup against Morsi.
Two years I ago I stood accused of terrorism in a law court, and I pressed the microphone against my chest to stop myself from trembling. There is only one thing worse than being hanged, and that is being hanged without first having the chance to speak and be heard.
For two hours I spoke about how we journalists take risks because we believe in journalism as a positive force, something that can give a voice to people, point a spotlight on conflict and promote peace.
I gave a lot of thought to who would be the next person we would be prohibited from interviewing, unless this development could be stopped.
Today I know the answer.
The verdict sends a chilling message and a warning to all journalists that they could one day face a similar trial and conviction simply for doing their job.
In the future, will foreign correspondents dare interview terror-stamped groups such as the Afghani Taliban, the Hezbollah in Lebanon or al-Shabaab in Somalia?
We need these voices, so that our global understanding of issues is not cut in half.
If Egypt now gets away with jailing journalists, no one will be safe any longer.
Today's sentence in Egypt against these journalists are an attack on us all.
But despite this difficult situation there is light.
The fight for their release has turned global. Colleagues and readers in Egypt and around the world have since their arrest been taking enormous risks writing, tweeting and speaking truth to power – demanding the jailed to be released.
It is hopeful.
It shows that they can jail journalists but they can never succeed in jailing journalism.
As Al-Jazeera says in a statement today "The authorities in Egypt now need to take responsibility for their actions, and be held to account by the global community".
At the end of the day reality consists of Realpolitik, journalism and diplomacy, not Egyptian playschool in the kangaroo courtroom.
They´ll get out.
Seven.
It´s just a number.
/ Martin Schibbye is a Swedish journalist who together with the photographer Johan Persson was sentenced as terrorists to 11 years for covering the conflict in the closed Ogaden region by entering Ethiopia illegally. Both were pardoned after 14 months of confinement. Schibbye and Persson has recently published a book about their 438 days as prisoners.